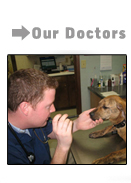 KayAnimal Hospital offers state of the art veterinary care.
Kay Animal Hospitalis a full service companion animal hospital. Dr. Kay has beenpracticing veterinary medicine in Douglas County for over 36 years. It is ourcommitment to provide quality veterinary care throughout the life ofyour pet. Our services and facilities are designed to assist inroutine preventive care for young, healthy pets. Early detection andtreatment of disease as your pet ages, and we provide complete medical andsurgical care as necessary during his or her lifetime.
We understand the special role your pet plays in your family and arededicated to becoming your partner in your pet's health care. Wetreat your pet as we would our own. Our goal is to practice thehighest quality medicine and surgery with compassion and an emphasison client education. Our entire healthcare team is committed toproviding personal attention to the unique concerns of eachindividual pet owner.
American Veterinary Medical Association(AVMA)

GeorgiaVeterinary Medical Association (GVMA)
Hours ofOperation:
MondayFriday 7:30am - 6:00pm
Doctorshours:
8:30am - 12:00pm and 2:00pm - 6:00pm
and Saturday 8:30 am - 12:00pm